Las Easter holidays son el momento ideal para disfrutar de cualquier actividad, desde planear una escapada familiar, hasta cocinar un plato especial. Es por ello que hoy queremos enseñaros dos recetas dulces, sencillas de preparar y muy buenas para alimentar la creatividad y la imaginación de los pequeños de casa.
First recipe: 10 Crescent Bread Dough Bunnies in 40 min
      What You Need


1 can (235 g) refrigerated crescent dinner rolls


125 g Philadelphia Brick Cream Cheese, softened


1/2 cup icing sugar


1 Tbsp. milk


1 tsp. each pink and black decorating gel or jam


Make It






Heat oven to 375°F






Unroll dough on lightly floured surface. Cut into 10 bunny shapes, and re rolling trimmings as necessary.



Bake 8 to 10 min. or until lightly browned.


Transfer to wire rack; cool completely.


Beat cream cheese, sugar and milk in small bowl with mixer until blended. Spoon into resealable plastic bag. Cut small piece off one bottom corner of bag; use to pipe cream cheese mixture onto cutouts, leaving around all sides a little space.


Use decorating gels or jam to decorate bunnies as shown in photo



Second Recipe: 24 Easter Chick Pretzels in 21 min

 What You Need





1 

Cup

 

Yellow Candy Melting Chips



24 Mini Pretzels



24

 

Mini Chocolate Chips




2

 

Orange Starburst Candies



          Make It





Cut both Starburst candy into 3 rectangular strips. They should be around 1/4" by 3/4".






Cut each of those strips in half. This should give you 6 strips that are ~ 1/4" by ~3/8.






Cut each of those drips diagonally to make 24 triangles for the chicks beaks.






Line a cookie sheet with wax papers. Lay pretzels on prepared pan.






In a medium microwave safe bowl, heat yellow candy chips for 30-60 seconds. Melt until smooth stirring frequently.






Pipe or spoon melted chocolate into the center of each pretzel.






Add a mini chocolate chip for the eyes and a starburst triangle for the beak.






Refrigerate for 30-40 minutes or until set.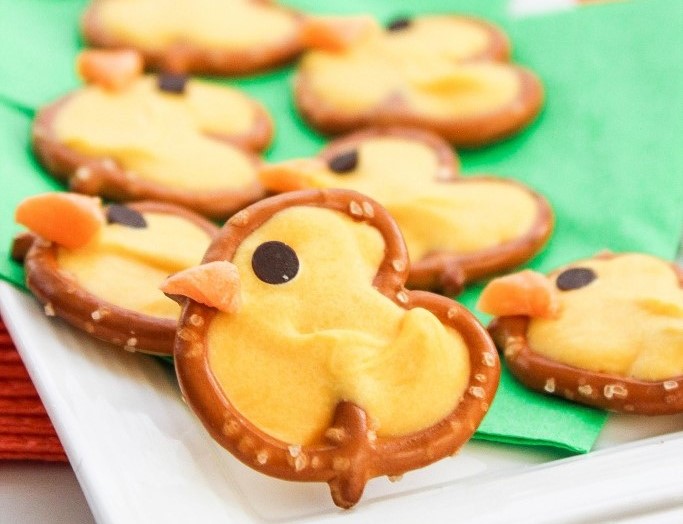 ¡Esperamos que os guste y que lo realicéis en casa! :)
16/04/2019