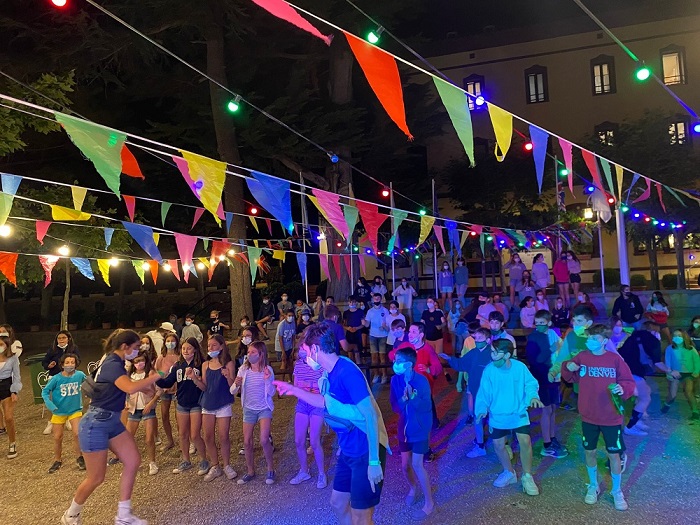 There are less than ten days to go until our summer camps start, and as the veterans know, every night there is a different theme party full of music and colour. For us, music is a prerequisite to enjoy these parties and we also love to dance. That's why today we bring you a list of current songs that you can add to your playlist and move your skeleton with them this summer. 
First of all, we bring you curious facts about the 3 songs that we like the most this 2022:
- Bam Bam (Camila Cabello i Ed Sheeran): is the song that Camila has most enjoyed writing, it is about love, heartbreak and how even when going through a bad time we have to learn to enjoy life. All this explained to the rhythm of salsa.  
- As it was (Harry Styles): broke the record for the most played song on Spotify in the US. The voice you hear at the beginning is his niece and the song was recorded in the living room of a friend's house. 
- When You're Gone (Shawn Mendes): it was recorded during the tour, it was recorded between Toronto and Austin, and the song is about falling out of love and what happens when a relationship ends. 


More recommendations, of course, here's a list of songs that you may already know or may not have heard yet!
- Bones (Imagine Dragons)
- Holy (Justin Bieber)
- Good 4 u (Oliva Rodrigo)
- Everything i wanted (Billie Eilish)
- Scars to your beautiful (Alessia Cara)
- Don't start now (dua lipa)
- Kings & Queens (Ava Max)
- God is a woman (Ariana Grande)
- The Motto (Tiësto)
- Watermelon Sugar (Harry Style)
- Drivers License (Olivia Rodrigo)
- Bills (LunchMoney Lewis)
- I am woman (Emmy Meli)
- Stay (The Kid LAROI, Justin Bieber)
- Industry baby (Lil Nas X, Jack Harlow)
- Late Night Talking (Harry Styles)

We hope you liked our proposals, if you are interested in more music follow us on our Spotify profile, where you will find many of the playlists we play at our camp parties. Do you want to see what they are like? Find out in the following video: 




!If you have not yet signed up for our summer camps, don't hesitate any longer, book your place here, and you will be able to enjoy the new summer dances and much more!
16/06/2022